Monday April 27, 2020
CPSC and Other Feds Get Advice for Returning to On-Site Work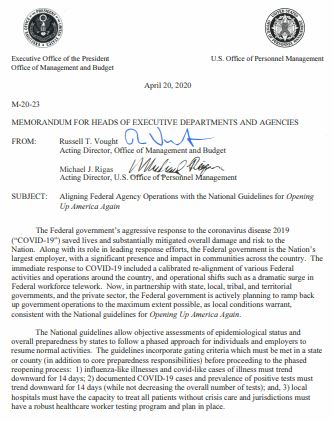 CPSC and other federal agencies should take five areas into considerations when deciding to resume physical operations, according to an April 20 guidance from the Office of Personnel Management (OPM).
The 11-page memo (bit.ly/3av7xzd) additionally explains that any such decisions should consider the White House suggestions (bit.ly/2VNhPFA) for state and local governments' choices to end stay-at-home orders – downward trends in illnesses for 14 days, downward trends in documented positive tests, and local hospitals with both the capacities to handle existing cases and robust testing of healthcare workers.
Indeed, the first of the five considerations in the OPM memo is the geographic region of operations. Most CPSC staff live in the Washington, D.C. area, which includes portions of Maryland and Virginia. However, it does have staff working in other parts of the country.
Headquarters and the lab are in Montgomery County in Maryland, but given the multi-jurisdictional nature of the area, agency managers likely would consider this OPM recommendation: "[A]dditional factors may include school and daycare closures, mass transit availability [and others]."
The second consideration is how to phase-in physical operations and phase-out telework. This starts with what the memo calls a "gating period" of assessing various factors including the needs of vulnerable staff. Then, the goal would be lifting mandatory telework, followed by ending maximum telework, and finally general return. Other ideas might include "rotating cohorts," meaning some teams might come to the office on some days and other teams on other days. Initial continuation of physical distancing might occur.
The remaining three considerations involve:
Guidance to staff on issues like vulnerable populations, healthy practices and expectations, processes for symptomatic people, and jobs that require on-site work.

Facilities, customer-service, and operational practices such as interaction with the public, lease-related necessities, health screening for access, hygienic supplies, cleanliness, and healthy practices.

Travel decision that account for differing access and operational statuses in various geographic locations.
The OPM memo ends with a one-page worksheet aimed at outlining information for these decisions.
CPSC began a teleworking policy in about the second week of March (PSL, 3/13/20), when it also reminded companies not to forget duties like 15(b) reporting. It later advised the public that recall remedies and FoIA responses might be delayed (PSL, 3/30/20). It since has stressed that companies need to let consumers know if there are snags with specific recalls (PSL, 4/3/20).