Product Safety Letter Sponsorship Package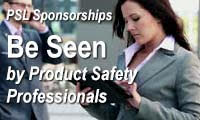 For more than four decades, Product Safety Letter has been the must-read, go-to resource for product safety professionals.

What kinds of decision-makers depend on PSL? It is read by product safety/integrity managers, regulatory affairs directors, CEOs, presidents, general counsels, and more. Its readers come from across the spectrum of CPSC stakeholders: manufacturers, retailers, law firms, industry associations, testing labs, regulatory agencies, consumer groups, and the like.

If these people are your targets, you need to sponsor PSL.

Day-to-day, week-to-week no other publication reaches this universe better.

What you get (you get both, not one)

1) A click-thru ezine banner
Product Safety Daily (5 issues per week) targets stakeholders in the regulation of consumer products. This must-read news-source reaches the email inboxes of top decision makers in this universe. As of April 2020, there are more than 4,000 recipients.
2) A click-thru website banner on www.productsafetyletter.com
Our website's viewers are primarily the proven repeat buyers of our premium newsletter Product Safety Letter as well as the recipients of our free daily ezine Product Safety Daily.
Size: Banners are 200 pixels wide by 120-360 pixels high. (The banner above is 200 x 120.)
Cost: $200 per week or $600 for four weeks.
Contact: Publisher Sean Oberle, email, (301) 215-9236.