Monday May 18, 2020
Cantwell Asks Beck about Role in Review of CDC Guide Plus Other Matters
Sen. Maria Cantwell (D-Wash.) May 13 sought information from CPSC-chairman-nominee Nancy Beck about her alleged role in reports of the White House purportedly delaying release of a CDC guideline on post-pandemic reopenings. The Senator used the situation to seek other information from Beck on unrelated matters too.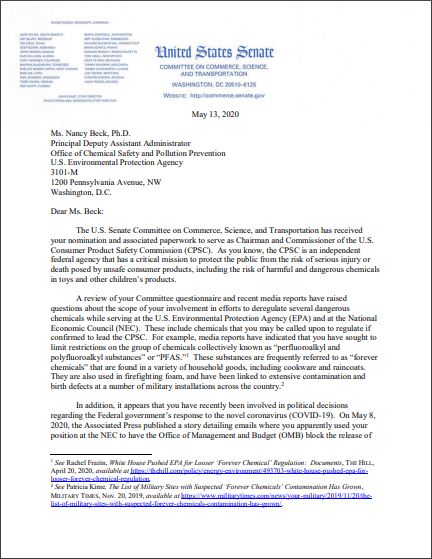 The impetus was an AP story (bit.ly/2WUIocf) on emails between White House officials and CDC, although the AP quoted Beck as writing only, "WH principals are in touch with the task force so the task force should be aware of status" related to the need for the guidelines to be approved. After that came a continuation of the exchange between CDC and officials other than Beck.
Cantwell wrote (bit.ly/3fN0lSF) to Beck:
"[I]t appears that you have recently been involved in political decisions regarding the Federal government's response to the novel coronavirus (COVID-19). On May 8, 2020, the Associated Press published a story detailing emails where you apparently used your position at the NEC [National Economic Council] to have the Office of Management and Budget (OMB) block the release of guidance from the Centers for Disease Control and Prevention (CDC) regarding guidance to states and localities on safety and reopening measures in response to the COVID-19 outbreak."
"This raises serious questions about whether you believe in preserving and respecting the scientific and professional integrity of scientists and health professionals that work at agencies like the CDC and the CPSC."
Cantwell additionally asked Beck about her role in EPA deregulation efforts especially on PFAS. As well, the Senator listed 15 questions about Beck's work in and out of the government, including this one directly related to CPSC:
"Please identify what work you have done, either at ACC [American Chemistry Council], EPA, or at the NEC, involving the CPSC, including any letters written to the CPSC or to any other agency, including but not limited to OMB, concerning any issue or action before or involving the CPSC."
Cantwell wrote a second letter (bit.ly/2WZfAzm) to the EPA inspector general office about the status of a 2017 request from an advocacy organization for an investigation into Beck over possible improper failure to recuse.
Beck declined to respond directly to PSL, directing it to OMB for an official response. A spokesperson with that White House office told PSL:
"During this pandemic, OMB has worked tirelessly to support the White House Task Force by coordinating review of hundreds of regulations, guidelines, and other documents from agencies across the government to ensure the United States government speaks with one voice in fighting COVID-19. The initial submission to OMB is the start of the deliberative process, not the end, and everyone knows that. We are incredibly grateful Dr. Beck wanted to continue serving her country by helping the Government respond to this pandemic while her nomination was pending."
The AP story also included portions of that response. The OMB spokesperson additionally pointed PSL to this remark by CDC Director Robert Redfield and quoted in numerous outlets in earlier stories about the hold of the guideline:
"The re-opening guidance shared prematurely was in draft form and had not been vetted through the interagency review process. This is an iterative effort to ensure effective, clear guidance is presented to the American people. I had not seen a version of the guidance incorporating interagency and task force input and therefore was not yet comfortable releasing a final work product."
Two months ago (PSL, 3/9/20), Beck received two nominations: to become CPSC chairman and to complete the commissioner slot previously held by Ann Marie Buerkle. That seven-year term began in 2018 and would run until 2025 officially although there is a provision for commissioners to stay an extra year to allow time to get replacements seated.
Beck is on detail to OMB, but her official job is deputy assistant administrator in EPA's Office of Chemical Safety and Pollution Prevention. That office's webpage continues to list her as holding that position (bit.ly/365kYFl).
Cantwell is ranking Democrat on the Senate Commerce Science and Transportation Committee, the panel with the responsibility to hold Beck's nomination hearing. Beck is not on the list (bit.ly/35WmqKf) of nominees set to appear before the panel at its next (May 20) executive session.
CDC May 14 issued numerous re-opening decision trees for specific locations like schools, other youth facilities, workplaces, restaurants/bars, and mass transit. The one for workplaces is at bit.ly/2Z3dXU9. It is a single page.